---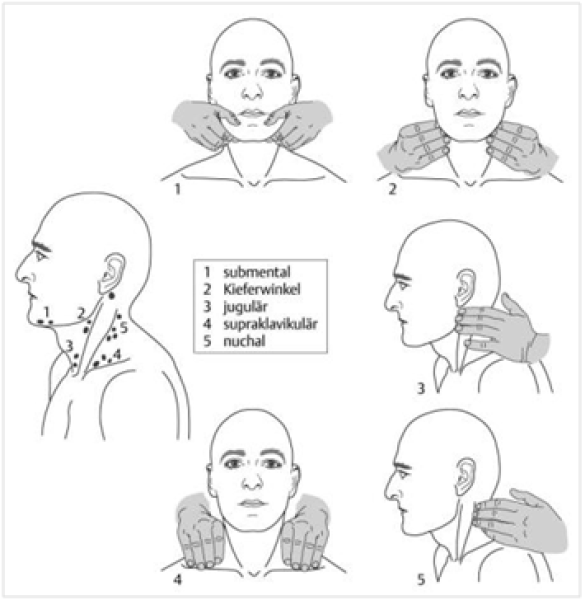 Integrate and react!
We all know the swelling of the lymph nodes when we are having a cold. Sometimes, it is just as a GP inspects the lymph nodes, also useful to do this as a specialized physiotherapist in the oro-cranialfacial region during the physical examination. That way, the hypothesis can be answered or refuted.
Let me first emphasize to be aware of the so-called red flags before we do our physical examination.
These are defined as risk factors for assessment and treatment.
The Red flags stand for all traumatic, neoplastic and inflammatory processes that require immediate medical attention. Our screening questions give us the answers to whether or not our patient is in need of medical attention. (1)
The Red flags/ alarm signals indicating Neck and throat malignancy by The European Head and Neck society (2017) are as follows:
• Painful/ sensitive tongue - non-healing lesion
• Red & white mucous membranes in the mouth
• Throat pain (> 3 weeks)
• Persistent hoarseness (> 3 weeks)
• Pain and/or difficulty in swallowing
• Swelling in the neck
• Unilateral clogged nose and/or bloody nasal discharge
Therapists that work on prescription (patients who have been referred and examined by a medical specialist) will rarely need to asses for red flags since they have usually already been excluded by the medical specialist. Sometimes patients are falsely labelled with a simple diagnosis such as tension headache or myalgia of the masticatory muscles; if dur-ing the our physical examination the features do not fit the therapist should be alerted and refer patients back to the specialist or GP without delay. (1)
Read in this blog the importance of lymph node examination within physiotherapy and ask yourself the question how much attention you should pay to this matter.
Background
In the craniofacial and mandibular area, the therapist often treats asymmetry. The affected lymph tissue can cause facial asymmetries. The changes in the craniofacial area can be regarded as a problem other than that of the lymphatic tissue and thus mask the actual problem. (1)
Enlarged lymph nodes may have three causes:
• Specific and a-specific inflammations.
• Metastases of tumor cells from the surrounding tissue.
• Tumors of the lymphatic system (2).
When there are no clear indications of a craniomandibular and facial dysfunctions in a subjective examination, but a clear dominant asymmetry in the soft tissue is observed and this discomfort is not observed by an E.N.T. doctor or another specialist, the therapist can perform an global palpation examination on the lymph nodes (1).

Knowledge of the lymphatic system has to be an important clinical standard practice (3).
Palpation, for example, is a good tool to reveal lymph node pathology of the head and neck area and can be classified in several ways: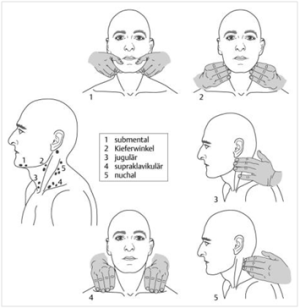 Layout
It is customary to follow the classification of lymph nodes stations in the neck as practiced by the American Society of Head and Neck Surgery (4). A uniform description of the lymph node locations is important for diagnostics; there is often a relationship between the localization of enlarged lymph nodes and the cause of swelling. The drainage area of the lymph glands is at the base of this (5, 6).
The neck is divided into six levels:
Level I, Submental and submandibular lymph node group.
Level II, Upper jugular lymph node group.
Level III, Middle jugular lymph node group.
Level IV, Low-jugular lymph node group.
Level V, Posterior lymph node group.
Level VI, Lymph node group of the anterior neck triangle.

Other than this classification, Classification according to the American Society of Head and Neck Surgery, as mentioned below, according to Berghaus et al. (7) is usually sufficient to detect abnormalities and to consider referring the patient to a specialist.
Performing of the examination:
The therapist stands behind the patient, who is sitting in an upright position with the cervical spine in 20-30 degrees flexion. The palpation is performed with both hands for a comparison of both sides. It is therefore time-saving to first investigate sub mentally, then towards the angulus mandibularis, through anterocranial to the Sternocleidomastoid muscle (Jugular), the supraclavicular space and then along the edge of the Trapezius muscle (pars descendens) in the direction of the occiput (Nuchal) (1). Hold the hands and fingers flat and begin parallel to the skin. The fingers are stretched and make a rubbing or a somewhat twisting movement. Palpation might be painful, therefore pay close attention to the patient's reactions (8).
Performing of the examination (Photo's by Daan Bredewout) (1)

Photo:

1.Submental,

2.Mandibula angle,

3.Jugular,

4.Supraclavicular,

5.Nuchal
Assessment
A normal lymph node is small, approximately 3-7 mm, usually spool-shaped, smooth, sharply edged, elastic in consistency, not fused with the skin or underlying tissues and is not painful during palpation. A normal lymph node in the neck is barely perceptible. During palpation they feel like elastic marbles (8).
Lymph nodes can be mistaken for a muscle (or artery). You must be able to roll a lymph node in two directions; up and down and from left to right. With a muscle or artery this will not be possible in these two directions (8).
Clinical interpretation of the findings
Lymph nodes in the head and neck region are not visible under normal circumstances and can hardly be palpated. After inflammation in the head and neck area, lymph nodes are often somewhat enlarged reactively. In that case, the node is also slightly firmer in consistency (8).
Size: The lymph nodes size says little about the severity of the condition, only with very large nodes is the chance of a severe illness enhanced.
Pain: Pain during palpation indicates active inflammation. Sometimes the skin above the lymph node will appear red and warm to the touch.
Consistency: A soft lymph node is usually harmless. Very firm lymph nodes are often based on metastasis, but firmness also occurs in certain forms of Hodgkin's disease and granulomatous inflammations. A rubbery consistency fits more with malignant lymphoma and chronic leukemia.
Localization:The presence of supraclavicular lymph nodes is suspected for malignancy. On the left side in the supraclavicular space is a special lymph node (the gland of Virchov) which is of special importance, because it is located in the drainage area of the thoracic duct. When this lymph node is enlarged pathologically, you must consider a metastasis of a tumor in an area involving lymphogenic drainage via the thoracic duct (for example stomach, gall bladder, ovary, pancreas, lung and testis) (5). Lung and breast cancer often metastasize to the same side as the source. In addition, pathological infraclavicular lymph nodes occur both on the left and right.
Fusing: Enlarged lymph nodes that have grown fused to one another or with the skin, are suspected for an active infection or malignancy.
Conclusion:
Clinicians working in the domain of the oro-facial region such as specialized physical therapists, speech language pathologists and dentists need clinical knowledge about lymph node pathology and must try to distinguish between benign- and malignant lymph nodes.
The CRAFTA® therapist is trained when it comes to this examination and it is therefore ad-visable, and actually necessary, to include this part of the examination on a regular basis to ensure good clinical reasoning. A possible pitfall for a physiotherapist is assuming that patients who come with a prescription from a doctor, have already been examined by pal-pation of the lymph nodes. It is therefore advised to integrate this physical assessment into the general examination.
Integrate and react! …….And if you are already doing this, well done!
Good luck.
Author:
Daan Bredewout, CRAFTA® Teacher in Education
References:
1. Von Pieckartz H. 2015. Kiefer, Gesichts- und Zervikalregion. Neuromuskuloskeletales Assessment und behandelungsstrategien. Stuttgart: Georg Thieme Verlag.
2. Schwenzer M, Ehrenfield M. Grimm G. 2002. Spezielle Chirurgie. Band 2: Zahn-Mund Kiefer-Heilkunde. Stuttgart: Georg Thieme Verlag
3. Bickley LS. 2009. Bates 'Guide to Physical examination and history taking. Philadelphia: Lippincott Williams & Wilkins
4. Robbins KT, Medina JE, Wolfe GT, Levine PA, Sessions RB, et al. 1991. Standardizing neck dissection terminology. Arch Otolaryngol. Head Neck Surg. 117:601-05
5. Kramer WLM. 2006 .Handleiding chirurgisch onderzoek. Houten: Bohn Stafleu van Loghum
6. Huizing EH, Snow GB, de Vries N. 2007. Keel-, neus- en oorheelkunde en hoofd halschirurgie. Houten: Bohn Stafleu van Loghum
7. Berghaus A, Rettinger G, Bohme G. 1996. Hals-Nasen-Ohren-Heilkunde, Stuttgart: Hippokrates
8. Buis J, de Jongh TOH. 2010. Onderzoek van de lymfeklieren. Ned. Tijdschr. Geneeskd. 154:A2652
9. Tokuda Y, Kishaba Y, Kato J, Nakazato N. 2003. Assessing the validity of a model to identify patients for lymph node biopsy. Medicine. 82:414-8
---
News Categories
Latest News
News Categories
News Archive
Tag Cloud