Study groups
CRAFTA®-Study group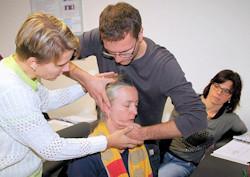 Share actual knowledge, refresh treatment skills or discuss patient treatment protocols. These are only a few examples for a CRAFTA®-study group. Down in this page you will find a list of certified CRAFTA®-therapists who are leading study groups.

What is a CRAFTA®-study group?
Study groups are a periodically meeting for all physiotherapists, speech- and language therapists, dentists, who are in the CRAFTA®-educational program and working with the concept.

What are the contents of the study group?
CRAFTA®-treatment skills are repeated an methods are discussed
Related to the concept thinking is trained
Preparation for further courses and correction of already learnt treatment techniques
Preparation for certification exam
Patient examples will be discussed or patient treatment will be evaluated
Neurobiological knowledge of the head-neck region will be refreshed and "updates" will be discussed
The actual evidence of the neuromusculoskeletal assessment and treatment will be integrated
Information about activities and courses of CRAFTA®

Who may participate?
The only requirement is an absolved basic course part 1.
For all participants there will be a fee charged, please contact directly the organizer.
Who is leading a regional group?
Our certified CRAFTA®-Therapists lead these study groups.
The requirements are:
CRAFTA®-certificate
Credit points on actual level
Where and when does a study group start?
In the table down on this page the certified CRAFTA®-therapists are listes, as well as the location of the group. If you are interested please contact the therapist directly via E-mail.
Name des zertifizierten CRAFTA®-Therapeuten
Ort
Tel
E-Mail / WWW
Leitung Regionalgruppe: Bernd Gotthardt
Praxis B. Gotthardt, Arzt, Rheingaustr. 22 2161 Berlin
Berlin/Brandenburg
+49 30 89748684
@
Helene Moser - Praxis Helmos
Effingerstrasse 6 - 3011 Bern
Bern
0041 031 381 50 00
@
Physiotherapiepraxis Kerstin Giese und Annette Schmidt Ansprechpartnerin Kerstin Giese
Hamburg
040-20944996
@
Georgios Tzoutzomitros
Heidelberg
06232-990122
@

Magda Bogucka
Łódź
+48 500 237 277
@
AGILPHYSIO Privatpraxis für Physiotherapie Marisa Hoffmann
Mainz
06136-925825
www.agil-physio.de
Lars Kroschewski
Singen
+49 7731 1371 1
@
Zbigniew Wronski
Warszawa
+48 508 338 446
@
Konstanze Wagner
Zürich
044 255 36 17
@