Hygiene guidelines
Recommendations from the Institute for Hygiene and Infection prevention at Robert-Koch-Institute (Germany RKI, www.rki.de)
During the treatment of the orofacial region there exists a transfer risk through skin- and mucomembranous contact or through transfer by instruments of the following pathogenic agents:
Herpes-simplex-virus type 1
Staphylococcus
Bacteria and viruses, which can infect the respiratory tract: e.g. Influenza or streptococcus
1. Hand hygiene:
Hygienic hand disinfection: Suitable are all pharmaceuticals which observe the following criteria:
-> HBV- HIV- HBC efficacy - Certified from the group of applied hygiene (VAH (Germany))
Application: Before and after every treatment:
Wash and dry hands, followed by applying 3ml of disinfection fluid for 30 seconds. Do not wipe off. If the fluid evaporates before 30 seconds, reapply.
In case of a higher risk of infection, keep the fluid on for 3-5 minutes (see application recommendations of the pharmaceutical).
In every oral examination or treatment medical gloves should be worn (DIN EN 455).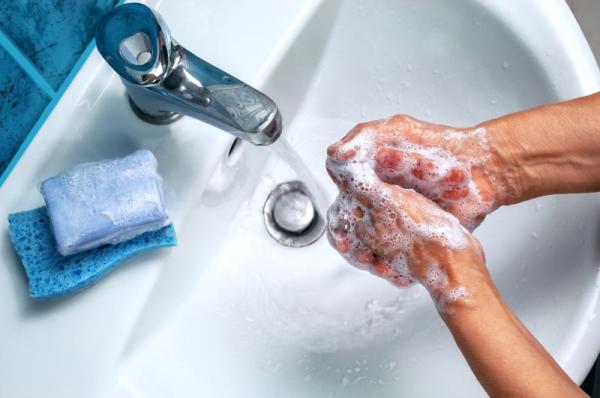 2. Instrumental hygiene:
Non-critical: Instruments used exclusively extra-orally will be classified as uncritical, these are:
Ruler
Caliper rule
Tuning fork
Reflex hammer
-> In this case you should use a disinfection wipe or bath and apply additional manual cleaning as necessary. The specific information of the producer should be paid attention to. The wiping disinfection should be authorized by the VAH (in Germany)
Treatment couch
-> Should the treatment couch come in contact with diseased parts of the skin or saliva, it should be cleaned with a surface disinfectant.
Semi critical: Instruments, which come in contact with mucomembranous or infected skin, these are:
Lip expander
It requires a thermal disinfection.
-> If you do not own a thermal disinfector we recommend a collaboration with a physician or dentist to avoid this expensive purchase.
-> Alternatively, we recommend disposable lip expanders.
-> Generally: Disinfected instruments must be stored in a hygienic, dry and dust-protected area.
Critical: Instruments which penetrate the skin or mucosa and come in contact with blood are not used in CRAFTA® treatment.

Instruments that penetrate the skin or mucosa and come into contact with blood are not used in CRAFTA® treatment during mobilization and exercise therapy.
In some countries, the myofascial trigger point therapy is additionally performed by means of acupuncture needles (dry needling). There are special hygiene guidelines, since a contact with blood is possible. The acupuncture needles used for this purpose are disposable material.