1. Introduction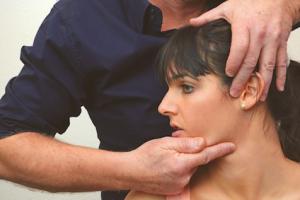 Temporomandibular Dysfunction is a term with different definitions. Often used is the definition from the AAOP which is defined as a group of disorders involving the masticatory muscles, the temporomandibular joint (TMJ) and associated structures (de Leeuw en Klasser, 2008). This means that different factors are influencing the TMD dysfunction such as ongoing nociception in this region, but also contributing factors like parafunctions (e.g. Bracing, Bruxism, biting on the fingernails), stress and (mal) occlusion.
Assessment and treatment of TMD in relation to orofacial dysfunction and pain is complex. The CRAFTA® therapist is educated in a biopsychosocial/multifactorial way and follows the guidelines of the Diagnostic Criteria for Temporomandibular Disorders (DC/TMD) consortium model; Axis 1 and Axis II (Ohrbach et al, 2016). We follow the DC/TMD because of its evidence based approach, and because of its ease in which it can be integrated into the clinical setting as well as into research.
It also makes communication with other specialists such as dentists and orthodontists easier. However not every craniofacial dysfunction and pain patient fits in the DC/TMD. Therefore, actual clinical classifications from a musculoskeletal perspective should be included (see also clinical classification of cranial neuropathic pain).
2. Assessment
As emphasized in the introduction the Diagnostic Criteria for Temporomandibular Disorders (DC/TMD) guidelines are used (Ohrbach et al, 2016; Schiffman et al, 2014).
If a TMD exists this can be classified in Axis I (diagnostic criteria for myogenic, disc or other arthrogenic dysfunctions) and axis II (disability and psychosocial status) which have a certain overlap with each other.
2.a Subjective  examination
The therapist tries to get an overview of the problems of the individual by localizing and understanding the behavior of the complaints and the contributing factors. He/She tries to get an idea about the clinical pattern which may fit in the Axis I and II classification of the DC/TMD. Questionnaires which may frequently support the CRAFTAâ therapist's hypotheses are the following:
Graded Chronic Pain Scale (GCPS): Pain intensity and pain-related disability of chronic pain severity can be measured with this scale. It can be used for all chronic pain conditions (v

on Korff et al, 1992).

Conti Anamnestic Questionnaire (CAQ): The presence and severity of TMD can be determined by 10 questions concerning common TMD symptoms (Conti et al, 1996).
Facial Disability Index (FDI): disabilities of patients with facial nerve disorders can be assessed with this index. (VanSwearingen and Brach, 1996).
Craniofacial Pain and Disability Inventory (CF-PDI): with this questionnaire pain, disability and the functional status of the mandibular and craniofacial regions can be measured (Madrid et al, 2014).  
2.b Physical examination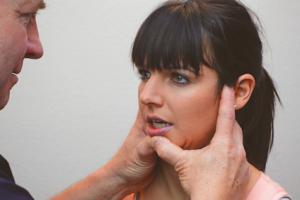 The physical examination is multi-structural and is used to get an idea about all dysfunctions which may be (important) contributing factors to the complaints. The implemented tests are related to the latest scientific knowledge.
Parts of the examination are:
Observation of the posture and the functional relation to that of the dysfunctions
Motor control  of the head and orofacial region
Differentiation tests – These are used to get a fast and clear idea about which region is a dominant contributing factor. To confirm the involvement of the TMJ region more specific tests can be applied.
Active physiological movements
Passive movements (physiological and accessory movements)
Muscle tests
static or isometrics
myofascial like triggerpoints
Lengthening ,stretching tests
Mandibular -neck coordination
Specific tests like - local differentiation tests, both intra- extra articular
Loadtest
Sticktest (static test with tongue depressor )
Functional Instability tests
Palpation of the TM Region
Painmapping
Tissue quality
3. The use of further external or clinical evidence supporting hypothesis of theindividual patient
While applying the DC/TMD, the CRAFTA® therapist also uses other tools in parallel to form the overall hypothesis
Pain physiology; trying to classify pain,  (extra-) trigeminal sensitivity, peripheral and central sensitization
Functional relations of body regions like the craniocervical region and posture
Contributing  and risk factors which may cause and/or maintain the dysfunctions of the individual person (is familiar  with the OPPERA studies)*
 These data will also be used for making a plan for short and long term management
*Orofacial Pain: Prospective Evaluation and Risk Assessment
4. Management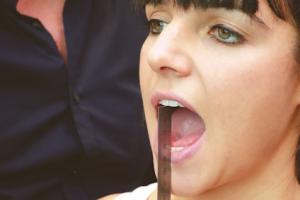 CRAFTA® treatment and management strategies of TMD do not consist of a recipe like program but is based on the results of a subjective and physical examination which will give an indication for the individual management.
Continuous retesting and clustering of clinical musculoskeletal tests and psychosocial assessments may lead to clinical proof of the hypothesis which drives the intervention and is supported by the current literature. Management strategies are often classified in the following categories:
"Hands on" strategies. Examples are mobilization of arthrogenic structures, reducing muscle tone, changing of proprioceptive input, treatment of other relevant neuromusculoskeletal tissues
"Hands off" strategies such as active motor control exercises, auto-mobilization, stabilization, stretching, information, cognitive strategies, changing of abnormal habits and posture, modification of the social environment to improve quality of life
Short and long term goals have to be set. The therapist plans short term goals like reducing pain, restoring function. Long term goals can be the elimination of the grinding pattern, improving strength
Therapeutic coaching is an important part of the management of the patient. Modern aids can   be used for this goal, like whats-app and other apps which can be used by the therapist in supporting the patient in achieving his/her goals (see www.trainyourface.com).
5 Evidence of treatment of TMD
There is increasing of evidence of specialized physical therapy for TMD. The last 10 years there is a rise of 70 % more RCT and systematic reviews which support physical therapy as a professional specializing in treating TMD. Most studies are still based on a recipe treatment. Because of the complexity of TMD and comorbidities often associated, a CRAFTA® specialized therapist intends to treat and manage the patient on an individual level using the best available clinical and external evidence.
Some references which support this:
Systematic review and meta-analysis from  Armijo-Olivo et al (2016)
Systematic review and meta-analysis from Dickerson et al (2017) 
Systematic review and meta-analysis from La Touche et al (2018)
Headaches and TMD; Conti et al (2016)
Cross-sectional study, von Piekartz et al (2016)
6. What separates us from other therapies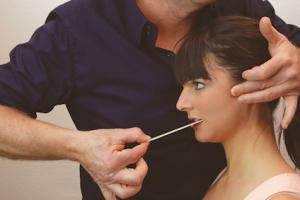 CRAFTA® therapists treat according to educational competency standards which are different from such therapies as craniosacral therapy, osteopathy and alternative therapies
We treat with a consensus of qualified healthcare professionals like ENT doctors, speech therapists and orthodontists
We favour active management strategies and not just passive techniques as used by other disciplines
We work with our patients respecting their healthcare needs and wishes
We not treat our patients with a recipe approach but with a tailored approach based on each patient's individual needs
7. Summary
A CRAFTA® therapist is educated in treating TMD and pain based on the best  actual clinical and research based evidence
In contrast to a recipe approach, the complaints and the dysfunction of the individual patient will have a specifically tailored assessment and treatment approach, while respecting to the medical diagnosis
Besides assessment of TMD, the CRAFTA® therapist will integrate other regions such as the cranial neural and the craniofacial-cervical regions in order to create the best management plan for the individual patient.
8. References
Armijo-Olivo, S., Pitance, L., Singh, V., Neto, F., Thie, N., & Michelotti, A. (2016). Effectiveness of manual therapy and therapeutic exercise for temporomandibular disorders: systematic review and meta-analysis. Physical therapy, 96(1), 9-25.
Conti, P. C. A., Ferreira, P. M., Pegoraro, L. F., Conti, J. V., & Salvador, M. C. (1996). A cross-sectional study of prevalence and etiology of signs and symptoms of temporomandibular disorders in high school and university students. Journal of orofacial pain, 10(3).
Conti, P.C.R., Costa, Y.M., Gonḉalves, D.A., Svensson, P. (2016). Headaches and myofascial temporomandibular disorders: overlapping entities, separate managements? Journal of oral rehabilitation, 43, 702-715.
De Leeuw, R., & Klasser, G. D. (2008). Orofacial pain: guidelines for assessment, diagnosis, and management. Am J Orthod Dentofacial Orthop, 134, 171.
Dickerson, S. M., Weaver, J. M., Boyson, A. N., Thacker, J. A., Junak, A. A., Ritzline, P. D., & Donaldson, M. B. (2017). The effectiveness of exercise therapy for temporomandibular dysfunction: a systematic review and meta-analysis. Clinical rehabilitation, 31(8), 1039-1048.
La Touche, R., Paris‐Alemany, A., Hidalgo‐Pérez, A., López‐de‐Uralde‐Villanueva, I., Angulo‐Diaz‐Parreño, S., & Muñoz‐García, D. (2018). Evidence for Central Sensitization in Patients with Temporomandibular Disorders: A Systematic Review and Meta‐analysis of Observational Studies. Pain Practice, 18(3), 388-409
Madrid, A., Carlos, R. J., La Touche, R., de Estudios, C. S., La Salle, U., & la Salle, C. (2014). Craniofacial pain and disability inventory (CF-PDI): development and psychometric validation of a new questionnaire. Pain Physician, 17, 95-108.
Olivo, S. A., Fuentes, J., Major, P. W., Warren, S., Thie, N. M. R., & Magee, D. J. (2010). The association between neck disability and jaw disability. Journal of oral rehabilitation, 37(9), 670-679.
Schiffman, E., Ohrbach, R., Truelove, E., Look, J., Anderson, G., Goulet, J. P. & Svensson, P. (2014). Diagnostic criteria for temporomandibular disorders (DC/TMD) for clinical and research applications: recommendations of the International RDC/TMD Consortium Network and Orofacial Pain Special Interest Group. Journal of oral & facial pain and headache, 28(1), 6.
Ohrbach, R, editor. Diagnostic Criteria for Temporomandibular Disorders: Assessment Instruments. (Version 15 May 2016). [Diagnostische Criteria voor Temporomandibulaire Disfunctie: Onderzoeksinstrumenten: Dutch Version 14 June 2016]. Knibbe W, Loyen NA, Meulen MJ van der & Lobbezoo F, Trans. rdc-tmdinternational.org Accessed on  24-06-2016
VanSwearingen, J. M., & Brach, J. S. (1996). The Facial Disability Index: reliability and validity of a disability assessment instrument for disorders of the facial neuromuscular system. Physical therapy, 76(12), 1288-1298.
Von Korff, M., Ormel, J., Keefe, F. J., & Dworkin, S. F. (1992). Grading the severity of chronic Pain, 50(2), 133-149.
Von Piekartz, H., Pudelko, A., Danzeisen, M., Hall, T., Ballenberger, N., (2016). Do subjects with acute/subacute temporomandibular disorder have associated cervical impairments: A cross-sectional study. Manual therapy, 26(2016), 208-215